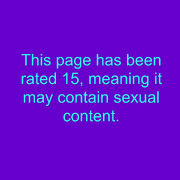 No, they don't get caught like the dog version. And this was something that happened BEFORE Rosie was lost.
Thomason: Rosie...
Rosie:... Yeah?
Thomason: I love you.
Rosie:... (blushes and whispers)
Thomason: Um... alright then.
(Thomason and Rosie kiss)
(Then they stop)
Rosie: Hehehe...
Thomason: Is anybody watching us...?
Rosie: Naa, we're hidden.
Thomason: Phew!